GEEZERS NITE OUT ~ Newsletter

This is a Monthly Newsletter. Articles, Pictures, and Happenings are all lsited on one page for the Current Month. Page down to see all of the Newsletter and photos in the order that it happens. 

This page was last updated: January 9, 2012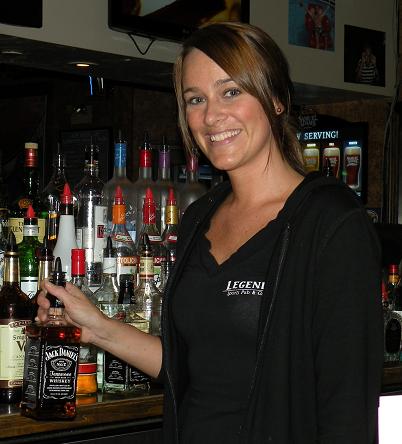 The Geezers Nite Out for Wednesday, October 5, was held at Legends Sports Pub & Grille in Green, Ohio. But it was an unusual nite in more ways that one.

For one thing, when we usually go to Legends on a Wednesday nite one of our fave bartenders, Tricia, is there behind the bar. she would have been there, but this was the only nite that her girlfriends could go out. So she traded with Misty.

Who you say? We have become friends with Tricia over the years. The Geezers started meeting at Legends back in 2005. And Tricia was one of our first Bartenders of The Month for
December 2005
.
But before we did we were going to an Irish bar on S Main St. called
Kevin O'Bryan's
. And Misty was on of the bartenders there back then. We have a  pic of her there on
St. Patty's Day 2006
. (Page down for pic)
And the other strange thing this evening was that Tricia was actually there. She and some of her girlfriends met at Legends before they headed down to Canton. It was strange seeing her on the other side of the bar.

The specials for the evening were $2 domestic bottled beer. $2.99 Long Island Iced Tea, 49 cent Boneless Hot Wings, and Manhattan Clam Chowder. I ended up ordering a Veggie Wrap with broiled chicken, but I wish I would have remembered about the clam chowder. Manhattan is my fave.  Everyone ordered something from Legends full
Menu
. 
The Geezers who were there were Spike, Drumstir, the Big Boi, J. Bo, R. B., and Billy Bob. Also Drumstir's son Gary stopped by for a while. Gary is quite an accomplished bowler with quite a few 300 games to his credit. Like father like son?

We did see a Celebrity Look-A-Like. He was the spitting image (Albeit a lot younger) of that Godfather star James Caan. I didn't get a pic. 

R. B. also saw a woman who he thought resembled that up and coming recording star from Sweden  Lykke Li. She has been on many popular talk shows including Carson Daly, and Conan O'Brien. Name too weird to be real? Real name: Li Lykke Timotej Zachrisson.

Next Wednesday, October 12, we will be back to the Brickouse on Howe Ave in front of Target. We will be celebrating Drumstir's B-Day. The only trouble is he won't be there. He will be in Hawaii with his wife Cindy. Well, I guess that you can't have your cake and eat it too!

Hope to see you all there.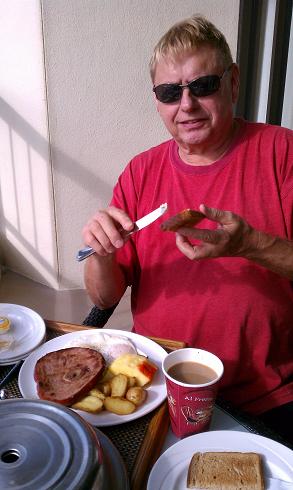 Fergie is back from Florida, but Drumstir is gone again!

Fergie arrived back from Clearwater, Florida last Saturday, Oct 8. He spent two weeks down there doing some work on the condo that he recently purchased.

It is in the same complex that his former condo was located, and also that of former Akron Goodyearite, Pearl Hayes.

However, Drumstir fresh from his short trip to Vegas, is gone again with his wife, Cindy, for their second trip to Hawaii. They must have liked it the first time.

To the left is a pic of Drumstir having breakfast, it looks like, on the patio of his hotel room. You couldn't tell it was Hawaii but it does look sunny.

The last time that the couple went to Hawaii they sent pictures via Cindy's
I-Phone
which I posted on the
2011 MEDIA PAGE
of the website. The pictures that they send from this trip along with the one to the left will be added to that page.
Aloha!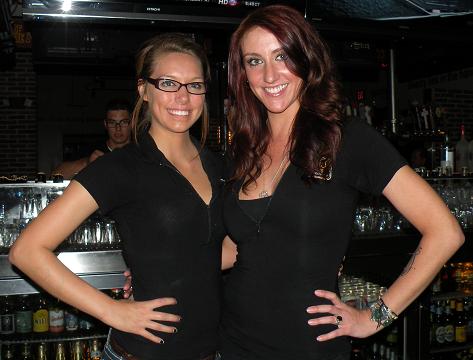 The Geezers Nite Out for Wednesday, OCT 12, was held at The Brickhouse at 581 Howe Ave in Cuyahoga Falls, Ohio.

Our bartenders for the evening were from (L-R) Ashley, and Erika pictured to the left. Ashley was there when we first arrived, and Erika came in around 6:00 P. M.

The Geezers there were the Big Boi, Fergie, Billy Bob, Spike, J.Bo, and R. B.

Also two of our biggest Internet fans surprised us with a visit. It was Al and Joann who are also friends with R. B. and who spend part of the summer with him in Hilton Head.

The drink Special for the nite was 16 oz. aluminum cans of Miller Lite for $1 until 6:00 P. M. Most of the Geezers took advantage of this including long-time Bud Light drinker, Fergie. They also had cans of Pabst for $1 which Spike took advantage of because of the "juice" that he pours into the beer to avoid headaches. The normal (sic) Miller Lite drinkers were ecstatic.

We did not see any celebrity look-a-likes this evening except R. B. seemed to think that one of our b-tenders, Erika, looked like Celine Dion. That was quite a stretch.

Fergie is back from Florida, and he made his first appearance in two weeks. He said that he did a lot of work on his recently purchased condo down there, and he spent beau coup dollaros! However, he must not have been hurting too bad because he paid me the 25 cents that he owed me!

We were actually at The Brickhouse per Drumstir's request for his B-Day (10/11). But he wasn't there! As of the writing of this article (10/14/11) he is still in Hawaii with his wife Cindy. He is supposed to be back the weekend after our meeting date.

That means that we will be celebrating his B-Day again next Wednesday, October 19 when we will be at one of our fave places again in the Falls, Johnny Malloy's. However, with Drumstir living in Canal Fulton we may not see him again. He usually skips the northside meetings.

But we hope to see you there.

Click on Pics below to Enlarge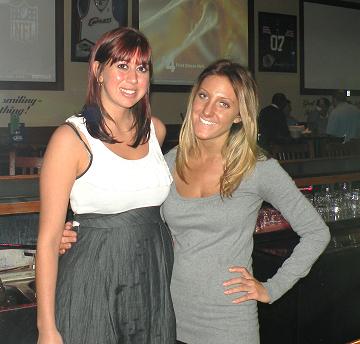 WELCOME BACK TO  MALLOY'S

It's been awhile since we have been back to Johnny Malloy's Sports Pub behind Chapel Hill Mall near Dick's. The summer is over, and we are heading back indoors.

Also, two of our "Traveling Geezers"  were back in town, and there Wednesday nite, October 19.

First of all, our bartenders for the nite were (l-r)
Lisa
and
Chelsea
. Lisa works days and she left around 6:00 PM.
Tom
came on after that. We will have more pics from the nite at the
GEEZER PHOTOS
link.
There was a good turnout of Geezers, and a visitor. 
J.Bo
,
Drumstir
,
Big Boi
,
Fergie
,
R.
B.
Spike,
and
Billy Bob
were the Geezers. Spike's son
Robo
was the visitor. He was getting dinner before class at
Akron U
. 
Speaking about dinner almost all of us took advantage of the Special on Wednesdays of a Medium two-topping pizza, and 10 wings from Geppetto's for $9.99. It is one of the most popular special items that Malloy's has on the menu. It is the best deal they have going since they used to have a complimentary pizza bar from 4-7 during the week. They also had tacos, and gyros on different days.

We were also celebrating Drumstir's B-Day (10/11). Last week when we were down the street at The Brickhouse, he was in Hawaii with his wife Cindy celebrating it. So he has been celebrating it for a couple of weeks. However, he was not too lucky on the Ohio instant lottery tickets that he received in his cards. Like ZERO!

We did see a legitimate celebrity look-a-like. It was a fellow sitting at the bar with a young lady who was wearing a hat and jacket on just like Indiana Jones wore in the movies. He even resembled Harrison Ford. I tried to get a pic with my cell phone, but I was too far away. Take our word for it!

And last but not least, the Big Boi splurged and got a Martini for a night cap. The bartender asked him if he wanted it "dirty", and before he could answer those of us who were left said in unison: "yes!" A dirty martini  is made with a splash of olive juice. Check it out on the Geezer Photos link.

Next Wednesday, October 26 we are scheduled to be at Dusty's Landing.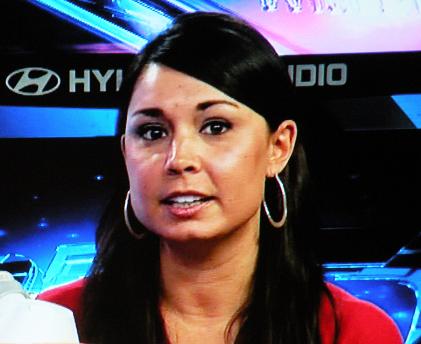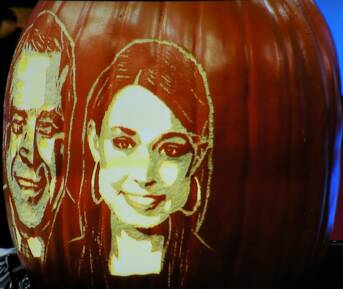 WANT A PUMPKIN WITH YOUR FACE ON IT?

Ashley Collins from STO (Sports Time Ohio) while appearing on All Bets Are Off with Bruce Drennan, brought to Bruce's desk a lighted artificial pumpkin bearing the resemblance of Bruce, and Ashley.

The person who does the artwork is Mike Pickett. He is a Pro at a local golf course. What he does is take a photo(s) of people, and computer generate it onto artificial pumpkins. You can make them light up by placing a lamp in the top.  And since it's artificial you can use it every year.

If you are interested in having your face on a pumpkin drop Mike an email at the above email address.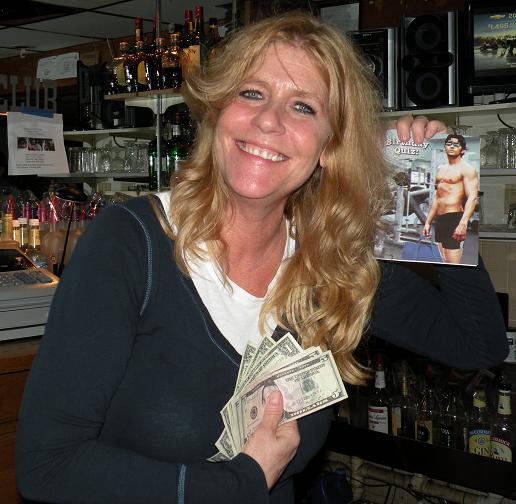 The last Geezers Nite Out for the month of October 2011 was held at a familiar place out on Portage Lakes, Dusty's Landing Wednesday, Oct 26.

One of our fave bartenders, Karen, was behind the bar. She had just celebrated a B-day last Friday, Oct 21. Not only was it our last Geezers Nite Out of the month, voting nite for our meeting places for November, but we were also celebrating Karen's B-day.

I (J.Bo) bought a card, and the Geezers who were there signed it, and we all threw a few bucks into it to cover the pizza that we ate. Those Geezers were Billy Bob, the Big Boi, Fergie, Spike, Drumstir, and J.Bo.

Karen ordered a bunch of pepperoni pizzas from Dominos for her customers.

It seems that Wednesday nites have become pizza nights at Dusty's. At least the last couple of times that we have been there that was the case.

As I mentioned above this was also voting night at Dusty's for the meeting places that we will be going to in November. We were anticipating the grand opening of a new sports bar in he No. Canton area. The Tilted Kilt Sports Pub is an up an coming franchise bu. I saw my first one when I was out in Goodyear, Arizona for the Cleveland Indians return out west for spring training in 2009. The actual location of that Tilted Kilt was in Peoria, Arizona. We also found one in Clearwater, Florida during our annual trip in February of 2010.

Billy Bob has been keeping up with the progress on the remodeling of the building that formerly housed
Cheeseburger in Paradise
on Dressler Rd. He took some pics that I have posted on my
BUZZ BLOG
and the place looks ready to go from the outside. It is slated to open on
November 7
. We are not sure of the date as this point that we will be scheduling our first visit. But it did get voted in. Our meetings are on Wednesdays, and there are five of them in November. The results will be posted on our
SCHEDULE
page shortly. The voting has taken place, but we must first assign the dates that we will be going to each one by our Entertainment Director,
R. B.
, who has been on a week long business trip for Goodyear.
We did see one Celebrity Look-A-Like. He was a guy who sat next to me who Spike thought resembled Richard Dryfus from his famous role in Jaws.

We hope to see you next Wednesday, November 2, wherever that will be. Check the Schedule.