GEEZERS NITE OUT ~ Newsletter

This is a Monthly Newsletter.  Articles, Pictures, and Happenings are all listed on one page for the Current month. Page Down to see all of the News and Photos in the order that they happen.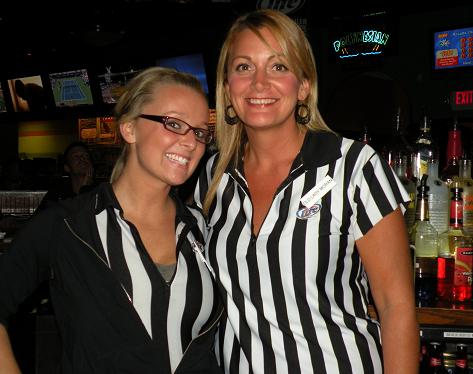 This page was last updated: January 9, 2012
The first
Geezers Nite Out
of
September
on Wednesday,
9/7
, was held at
Paninis Pub
in No Canton, Ohio.
It was our first vist to Paninis,  but it has been on the ballot for a few years. It finally was voted in at the end of August.

Paninis is a unique place. It is the home of the Panini sandwich. More on that later.

Some of the Geezers initially met at the bar. There was a character sitting at the end of it who was a little unusual. But for one thing, he didn't lose his "marbles". That is another story. Ask one of the Geezers who was there.

Those Geezers were Spike, the Big Boi, J.Bo, and R. B.  Drumstir had to take his wife, Cindy, for a doctor visit.     

Billy Bob advised us on this day that his Dad was taken ill, and he had to stay with him in ICU. We wish him and his father well.

Paninis has the bar area where we started out, and they also have the "Polynesian Patio" which has the "tiki bar" look. We went out there in anticipation of more Geezers arriving. However, due to the fact that they do not have draft beer available out there, and the weather wasn't exactly "summer like" we decided to go back inside. The bar was full at that time so we went to a table in the dinner area. Soon we were back at the bar. Our bartenders there were Peanut (L), and Cindy pictured above. If you look closely Cindy's name tag reads "OLD LADY MORAN". We have no idea where that came from and why? There was a male bartender out on the patio. We did not get his name since we weren't there that long.

Paninis is connected to The Pub next door, with the same owner. It is a trendy club with a dance floor and non-stop music. On Wednesday they have available, "Free Appetizers" from 4-7 PM. It is also available for customers at Paninis.

As mentioned above the "famous" Panini Sandwich is a generous portion of meat, turkey, or even eggs on two thick slices of Italian bread on top of cole slaw and french fries. Yes, that's right, french fries. I believe the original restaurant is near Progressive Field in Cleveland. It's something that you have to try! 

It is Ladies Night at Paninis from 5-8 PM with Free Appetizers from 5:30 - 7:00 PM. Well drinks are $1, Bombs, Long Islands, Margaritas, and Imported Beers for $2. All cocktails wine & martinis for $3. Also There is a DJ with Dancing, and Dueling Pianos at 8:00 PM.

So there is a lot going on at Paninis/The Pub.

Next Wednesday, September 14, we have made a slight change. We will be going to The Galaxy in Wadsworth because that will be the last night for Live Entertainment on The Patio. We are hoping for good weather. Hope to see you there.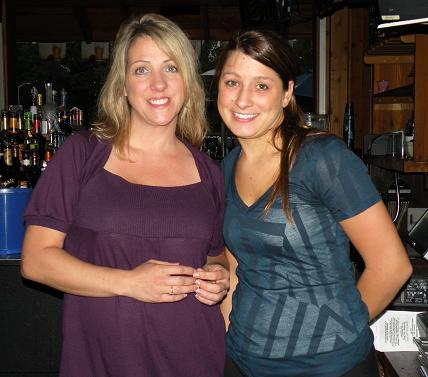 The Geezers Nite Out at The Galaxy on Wednesday, September 14 was the last night for a band out on The Patio. It also was a wake up call that summer is OVER!

The actual last day of summer is September 23 which is the first day of Autumn. But it felt like Autumn out on the Patio. I'm sure that there will be many more warm days ahead, but Wednesday night was not one of them. I never heard what the temperature actually was, but it was overcast, windy, and cold with a  few sprinkles now and then for good measure.

Our bartenders for most of the evening were Theresa (L), and Leslie pictured to the left. Mike, who also doubles as a Manager, was working the bar when we first arrived.

The turn out of Geezers was actually pretty good considering the drastic change in the weather. The Geezers out on the Patio were Drumstir, J.Bo, Fergie, Spike, the Big Boi, Billy Bob, and R. B. We were also visited by two of our friends, Krisko, and Betty Boop. We go way back with them, and our dear departed friend Danno. We were also having a belated B-Day celebration for J.Bo (9/10), R. B. (9/12), and Krisko (9/13). Our B-Day celebrations go on, and on.

The entertainment for the evening was the Joe Moorehead Band along with radio station WONE 97.5. The band consists of four guitar players including a bass guitar, and a drummer. Evidently Joe Moorehead is the lead singer. They sounded pretty good despite the fact that their fingers must have been a little stiff from the cold. WONE DJ, TK O'Grady, was not there, again. I guess that he is a fair weather DJ.

The WONE people who were there were passing out popular beer trinkets such as key chains, and lanyards along with requesting us to fill out a slip with our name and phone number for a drawing. Our chances were really good considering the turnout. In fact R. B. was one of the first winners of a WONE T-Shirt. Some of the Geezers who left earlier will find out about this for the the first time in this article, but Drumstir, and the Big Boi had their names drawn, but you had to be there to win the prize. Tough luck

fellas. 

See the pictures from the evening on The Patio on our
GEEZER PHOTOS
page.
One item on Galaxy's excellent
menu
is the
half-sandwich and soup
.  This was a
hot
(Pun intended) item due to the cold weather. And there is a bonus with this item in that for
$1
you can get a second bowl. Most of us took advantage of this offer. Drumstir intended on doing it, but due to a glitch when he ordered he got a full portion of chicken salad or something similar. It's always somethin''!
Next Wednesday,
September 21
, we are scheduled to meet at
Dusty's Landing
. However, if the weather is warm enough to be outside we will go to
Dietz's Landing
first. They both have the same owners. Check the
SCHEDULE
page on Tuesday,
September 20
for any changes. We will also send out an email from our email address if anything changes. Either way, hope to see you there.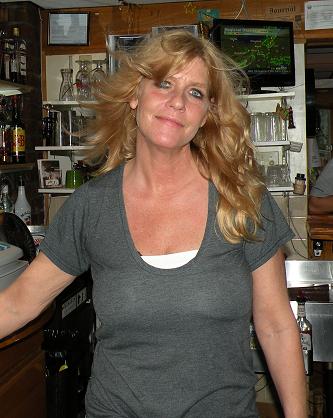 DUSTY'S WAS THE PLACE TO BE

Why you say? Because they had Free Pizza. Besides that it was dry inside. Between 3:00 & 4:00 PM. it poured down rain. And it was a hard rain!

I am talking about the Geezers Nite Out Wednesday, September 21 at Dusty's Landing on  the Portage Lakes in Akron, Ohio. 

We have been getting a lot of rain lately in Ohio. The Cleveland weather channels have said that it is a record rainfall in September.

Our bartender for the evening, and Farrah Fawcett look-a-like, was Karen, although she doesn't like that comparison. She had a fan behind the bar because it was humid after the rain. I made sure that she stood in front of the fan when I took the pics.

The turnout of Geezers was not up to the norm for whenever we visit Dusty's. Those Geezers who were there were Drumstir, the Big Boi, J.Bo, R. B., and Billy Bob. Fergie was busy getting ready for his trip to Clearwater, Florida to spend a couple of weeks in the new condo that he purchased in the same complex where had his first one in. Spike was a no-show without even an email as to why he wasn't going to be there. Karen wasn't happy, and may have referred to him by his initials, S. O. B.

Dusty's does not have a kitchen, so Karen makes appetizers for her customers. This Wednesday, and maybe every Wednesday from now on, she ordered pizza for everyone who came in. Nothing wrong with that.This is the real thing.

Karen instituted the option of "personal pizzas" for anyone who wants one. She purchased a small oven that cooks them in a matter of minutes. However, this nite she ordered out! But one customer, who came in later on, ordered the personal pizza. When the pizza was done Karen took it out of the oven, and she was preparing to give it to the customer when she...oops...dropped it into the sink. And the sink was full of water, and the antibacterial solution that she uses to sterilize the glasses that she washes.

Well, needless to say the whole bar cracked up! Karen also thought it was funny for awhile, but then she stated: " I don't want to talk about it anymore!" I don't blame her. It wasn't as funny as the guy sitting at the bar in front of the sink with the "Coast Guard" T-Shirt thought it was. It was funny!

There was a serious note to the night. Karen asked me to put on our website a poster about a Corn Roast for a Fundraiser for a family who had the misfortune of not having a healthy baby girl. The baby, named Mia, was born with a defective heart. Dusty's is having this fundraiser for the family who have absolutely no money to live on for Saturday night, October 1, 2011 from 4 to 9 P. M. Please go tot he HOME page and click on the "Miracle Baby' poster or
click here
to find out more info.
Next Wednesday, the last one in September (9/28), we will be at one of our fave places, Just One More in Gala Commons. This is the place that the Phantom Band has performed for Goodyear Christmas. and other parties. They also have $1 beer and $1 burgers until 7:00 P. M. Hope to see you there. 

WHERE ARE THEY NOW?

Fergie left for Clearwater, Florida last Friday (9/23) morning on his own.  No co-pilot. His wife Brenda flew down and joined him the following Monday. I know this because Fergie called me from the Bahama Breeze in Tampa. It is located just across the causeway in Tampa. It is the Geezers first stop whenever we visit Florida during the winter. Thanks Fergie! Enjoy! He will be there for a couple of weeks returning sometime in early October.

Drumstir left for Vegas on Monday (9/26) morning for a short visit to meet up with his wife Cindy who works for United/Continental. According to Drumstir he only lost around $40 gambling. Cindy won, again, as usually happens when those two go there. He returned Tuesday night, and he was at the Geezers Nite Out at Just One More on Wednesday, Sep 28.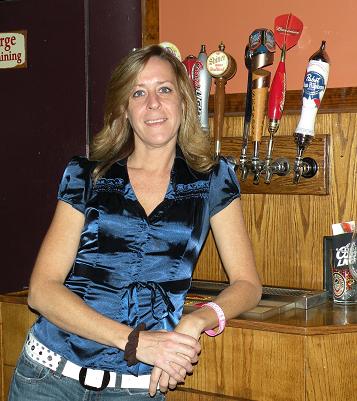 We were back again at Just One More in Gala Commons for the Geezers Nite Out on Wednesday, September 28. The last time that we were there was for the End of Summer Bash with the Phantom Band.  We were informed then that the band will be back for the Goodyear Christmas Party on Thursday December 22.

The bartender who was there when we first arrived was,
Michelle
, pictured to the left. She was working the day shift. She was replaced by
Naveen
who came in around 6:00 PM. I tried to get a picture of them together before Michelle left, but Naveen was having some kind of hair problem, However, there is a pic of her on the
HOME
page, and the
GEEZER PHOTOS
page.
The Geezers there were Spike, the Big Boi, J.Bo, Drumstir, R. B., and Billy Bob. We all enjoyed the $1 Burgers, and $1 domestic beers. The burgers were "just the way I liked them."  If anyone cooks for me it is always that way! They were actually very good, and filling!  

There was Chili also on the Specials Board, and Drumstir tried a cup. They also have stuffed banana peppers for an appetizer, and a full menu to order from. For some reviews go to
Google Maps
.
It was also voting night for the meeting places that we will go to in the month of
October.
Three of the places had more votes than the others on the ballot, and those automatically made the schedule for next month. But there was a tie between two other places, which necessitated a vote-off between the two. The winner, and the results of the earlier voting will be posted on the
SCHEDULE
page shortly.
Just One More also has a very good DJ who also does Karaoke. Boo (A customer) commented on Yahoo Local: "They have the best DJ and the best Karaoke singers in town! They have the hottest night bartender in the world. Navine."  This is a quote. Navine is correctly spelled Naveen.

Next Wednesday,
October 5,
we will be back (Finally) at one of our fave cold weather stops,
Legends
Sports Bar & Grille
in Green to see one of our fave bartenders and former bartender for the month of
December 2005
,
Tricia
. Hope to see you all there.