This is a Monthly Newsletter. Articles, Pictures, and Happenings are all listed one one Page for the Current Month. Page Down to see all of the News in the order that it happens!

GEEZERS NITE OUT APRIL 2, 2014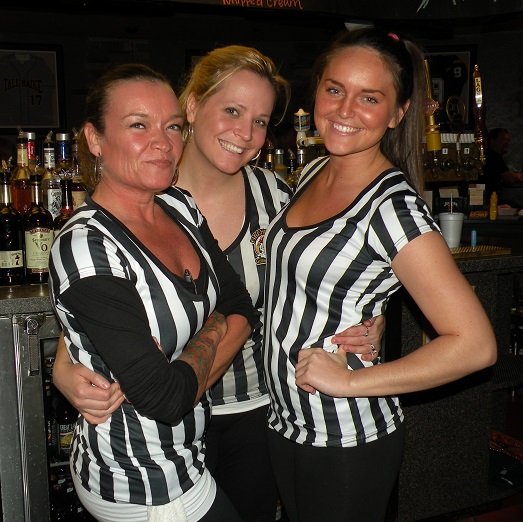 I (Joebo) arrived at The Firehouse on Tallmadge Circle on Wednesday night for Geezers Nite Out (GNO) close to 5:00 PM. When I entered the bar area I couldn't believe what I was seeing. There were patrons at almost every seat at the bar and the surrounding booths. The last few times that I have personally been there, it was never that crowded.

At 4:54 PM it was 59 degrees, and it was clear and calm outdoors.

People probably used this day to get out of the house, and go have dinner after a long winter in their homes.

I looked around and I found Spike (Swish) seated in the corner of the upper level of the bar.

I remember commenting to him something like: "What is this, a wedding reception?" You had to be there! 

Pictured are our bartenders for the night, (L-R) Jenny, Brittany, and Kaitlynn. They treated us good.

As I mentioned it was very crowded around 5:00 PM, supper time for most. There was a seat open to the left of Spike, and there was someone sitting to the left of me. That person eventually left and we saved that for the next Geezer to arrive. That happened to be R. B. who sat to my left. That was the end of the available seats. As the case would have it S. B. came sauntering in, and ended up sitting to the right of Swish in the last seat of the lower bar. There was a service area separating the four of us. It was a little weird. We could talk to each other but we had to scream.

Eventually, the bar thinned out, and we ended up moving to the other end of the lower bar so we could all sit together. Right after or during this move Billy Bob made his entrance. So we were all sitting in line at the bar like "ducks on the pond!" (Didn't a famous Cleveland sports personality come up with that saying?)

We were watching the Cleveland Indians being plummeted by the Oakland Athletics in the first game of a double header from California. The double header was necessitated because of a rain out on April Fools Day. They go all the way to California to play their first 3 games of the season, and one of the games is rained out. Wasn't there a song out there that said: "It Never Rains in Southern California"?

The Indians lost that first came 6-1, and then came back to win the night cap 6-4.

We also talked by phone with one of the two Geezers remaining in Florida for the winter, "Big Daddy" Dan Minier. We haven't heard form him for awhile, and we wanted to know his availability for the Phantom Band who are planning a Spring Gig sometime soon. Big D said he is fit to perform, and he will be back in the area in a couple of weeks. No concrete date has been set yet for the party. It needs to get a little warmer in the NE Ohio area.

We all ate from the Firehouse
MENU
.  S. B., and Billy Bob were eating healthy by ordering
Grilled Chicken
Salad
. It looked very tasty. When the first Firehouse opened their doors the featured food item was the
$1
Hamburger
. There are now quite a few of them in the area. But they still offer the
$1 Burger
to this day. That is what Spike ordered. R. B. wasn't sure what he ordered, but he told me it was a Mexican Wrap (or something). I created a version of the
Ham & Egg Hoagie
. It usually comes on a hoagie roll with ham, and a fried egg topped with french fries and cole slaw. With a little helped from the bartender I ended up with a ham & egg wrap with fries and slaw on the side. We have pictures of some of these dishes plus others from the evening on our
PHOTOS
link.  
We usually see celebrity look a likes wherever we go, but on this nite one of the Geezers ran into the son of a fellow Goodyear associate. The son of Jerry Gorbach was sitting right next to us at the bar, but we didn't realize it until we saw him in the restroom. R. B., and Jerry used to coach their sons in baseball. Small world.

Next Wednesday, April 9, 2014 we will be meeting at Johnny J's Pub & Grille in Springfield. 

This page was last updated: May 3, 2014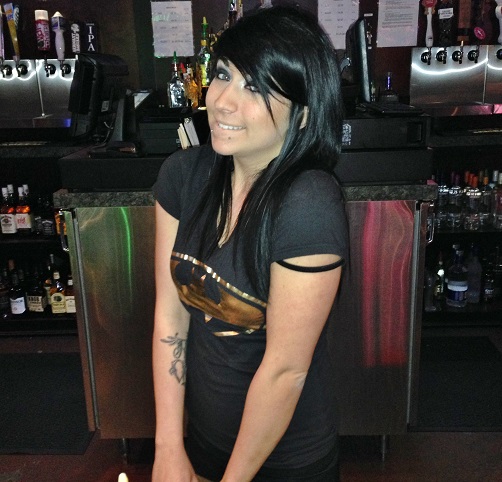 GEEZERS NITE OUT APRIL 9, 2014

The Geezers Nite Out on Wednesday at Johnny J's Pub & Grille in Springfield almost wasn't!

I arrived at JJ's around 5:20 PM. Before I left home I received a text from Spike that he wasn't going to be able to make it because of a grandchild B-Day party. I also received an email from S. B. indicating that he couldn't be there either because the family cat was gravely ill.

Fergie is still in Florida, and I believe that Drumstir's grandchild was going to be in town during this week, and he wasn't going to be there. He wasn't.

Needless to say I was the only one of the Geezers who was there after 5:00 O'clock.

I was expecting R. B. before 6:00 PM, but he wasn't there either. Billy Bob usually doesn't arrive until 6:00 or thereafter.  He did arrive a little after 6:00 and was surprised that I was the only one there at that time.

In just a few minutes after Billy Bob walked in, the Forester arrived followed shortly (No pun intended) by R. B. So there ended up being four Geezers at JJ's after all. 

It didn't end there. It was a rather crowded night so while the four of us were there, R. B. and the Forester were sitting at a table that is attached to the bar, and Billy Bob and I were sitting at the bar. That left two seats open at the table. One customer came, and sat down at the table next to R. B., and Forest. We were kidding around that the customer must have been subbing for the missing Geezers.

That guy left after he had a beer and dinner, and then a couple who were sitting at a table against the wall, came over and joined R. B. and Forestat the table. We got to talking with them, and ended up meeting some new friends. But it was an odd night.

Pictured above is one of our bartenders at the area where we were seated. This is
Sarah!
Besides being an
Amy Winehouse
look-a-like she is also a model, and a great Chocolate Martini maker. One of the other bartenders was male named
Marvin
. He was also making martinis as it was
$3 Martini Night
along with
1/2 Off
of Appetizers
. Go to our
PHOTOS
page to see a pic of Marvin, Sarah, Martinis, food and Geezers.
When I arrived the Cleveland Indians were playing the second game of a double header with the San Diego Padres due to a rain out the night before. The Indians won the first game 2-0, and lost the second game 2-1.

But the Cleveland Cavs came to the rescue and demolished the Detroit Pistons 122-100, but they were leading by 32 points late in the second quarter. It was a must win. But the Atlanta Hawks won the next night eliminating them from the playoffs. What's new? And they two chances in the Draft Lottery, Slim and None, and Slim left town!

Sweet Lou (The Celebrity Look-A-Like who resembles ND football coach Lou Holtz) was at JJ's on this night. We always used to see him at Legends Sports Pub in Green when we would meet there. We are beginning to think that he is following us around.

Well, next Wednesday, April 16, we will be meeting at one of my fav places the Winking Lizard in Montrose. It is always happening there. And we will also be looking forward to seeing the "House Lizard" Zippy.  (Yes, they do have a Live Iguana on display!)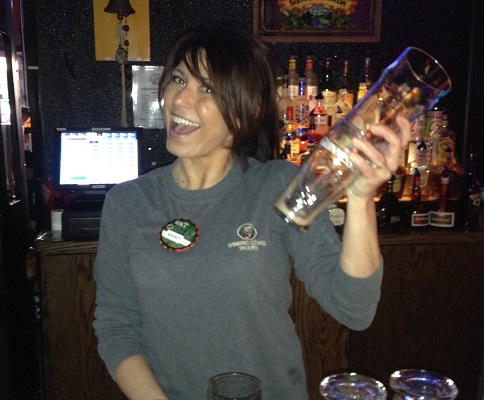 GEEZERS NITE OUT APRIL 16, 2014

Another
Geezers Nite Out
was held at one of our fave stops on our
SCHEDULE
at
The
Winking Lizard
in  Montrose/Copley.
I arrived around 4:35 (Actual time). The Forester, and Spike were already there. It wasn't very crowded at that time. The high temperature for the day was 45, and the low 31 degrees. However, it was dry and sunny.

The last time that we met at the Lizard was on February 26, and the temperature was 15 degrees with a windchill of 1.1 degrees.  And on that day it was packed.

However, by 6;34 the bar was full and the dining area was rather crowded.

S.B., Billy Bob, and R.B. didn't arrive till after 6:00PM.

Pictured above is
Mandy
. She was one of the bartenders who took care of us for the evening. When we first arrived,
Kate
was behind the bar. Mandy came in later. Kate worked with Mandy for awhile and then she left for the evening. Go to our
PHOTOS
page to see a pic of Kate, and more from the evening.
Most of the Geezers ordered from Lizard's excellent & different
MENU
.
Monday & Tuesday
nights are
Wing
Nights
for a reduced price.
Billy Bob
ordered the Wednesday night Special which is
1/2 Slab of Ribs
also at a reduced price. The Lizard also provides fresh complimentary popcorn located near the Lizard.
A good friend of The Geezers,
Krisko
, stopped in to join us from her late shift at the
Goodyear
. She ordered a
White Pizza
with sausage, and it looked mighty tasty. They do have a good selection of pizzas also. To see pics of some of our choices also go to our
PHOTOS
page.
There is actually a Live Lizard (Iguana) at every Winking Lizard location. The one at the Montrose location is named Brutus. There is a picture of him/her on the photos page also.

Next Wednesday, April 16, we will be going to Legends Sports Pub & Grille in Green. They have the Beacons Best #1 Bartender in the area, Tricia. They also have complimentary popcorn.

GEEZERS NITE OUT APRIL 23, 2014

We were at Legends Sports Pub & Grille so you know, if you read these stupid newsletters, that it means we were due for some unusual happenings on this evening.

First of all the reason that The Geezers were there on this nite was because of Beacons Best #1 Bartender, Tricia, pictured to the left.

What's that? You can hardly see her? Well it isn't a prerequisite that I take a picture of all of the bartenders that we visit each week, but it is something that we usually do.

However, in this case Tricia said to take the picture far away. So I did.

I wonder if that has something to do with my photographing capabilities?

e

OK, now that we got that out of the way, Legends around 5:00 PM is a tough seat to find at the bar. When I arrived the bar was full. I temporarily sat at a table adjacent to the bar. Unbeknownst (I like to use this word) to me, one of the original Geezers, Crazy Richie, was sitting at the bar.

In just a matter of minutes two people left two seats down from him. However, I didn't know he was there. Needless today I ran over and grabbed the seats. All of a sudden, Crazy said, Hi Joe. I looked for him when I came in, but I didn't see him. I was going to ask him to come over next to me when Spike (Swish) walked in. so I just stood (actually seated) pat. (And I don't even know Pat!)

So we stood pat until Drumstir arrived. He had to stand until another seat opened next to Spike. R. B. came sundering in, and he found a seat . Then S. B., and Billy Bob arrived.

After some juggling (no, not oranges) we were all sitting at the bar like ducks on the pond.

Most of us have the new "smart phones" (but we aren't going to point out those who don't). We were checking the weather, and everyone had a different temperature, and location. The temperature around 6:00 PM where we were was around 46 degrees.

Where we were is another argument. Legends is located in Green. R. B. lives in Green, but his mailing address is Uniontown. My iPhone5 gives me the temperature from that location where I am actually at. It was reading Uniontown.

Crazy Richie's phone was indicating Green. I was saying that Green and Uniontown are one in the same. And the argument went on from there.

Does anyone actually know the boundaries of Green and Uniontown?  Big Al?

We received a call while at Legends from one of our traveling Geezers, "Big Daddy"! He was calling from Columbus, OH where he is staying temporarily at his son's home. He retired from Goodyear in March of 2012, sold his house in Norton, and has a home in Florida, and one where That Team Up North plays. Last year he had some minor knee surgery. He is the drummer and vocalist for The Phantom Band. His surgery, and his double residency in two different states has limited his availability with the band.

However, he is now being considered for a temporary position back with
Goodyear
in
Akron
. This will make him available for a
Spring Gig
that the band is planning. The actual date has not been determined, but it will be some time in May. check our
SCHEDULE
page for
MAY 2014
when published.
One thing that we do know is that the next Geezers Nite Out will be on the last Wednesday of the month, April 30 at Dietz's/Dusty's Landing on Portage Lakes.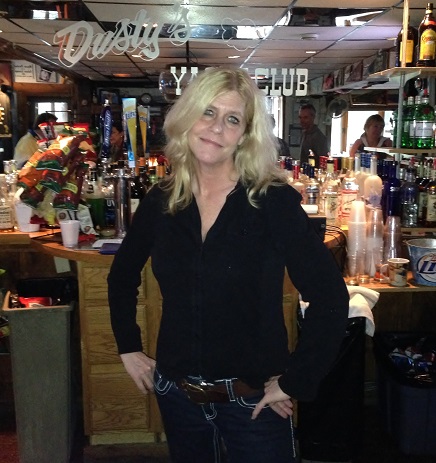 GEEZERS NITE OUT APRIL 30, 2014 

We were all back at Dietz's Landing/Dusty's Yacht Club Wednesday for our Geezers Nite Out.

When I arrived at Dusty's sometime after 5:00 PM the only Geezers at the bar were Drumstir, Spike and S. B. And when I say ONLY Geezers that was almost it. There was one other customer at the bar.

However, there were a couple of other people setting up food for a special event. What? Yes, They brought hot dogs, baked beans, and some chips for (here it comes) Dinner & A Movie. The movie? Well, Casablanca, of course starring Humphrey Bogart, and Ingrid Bergman. Some of us thought that the female lead was Lauren Bacall or Katharine Hepburn. Humpty Dumpty was in movies with those two legendary actresses, but it was Ingrid Berman in Casablanca.

Oh yeah, Peter Lorre was also in the movie. For our younger readers he was a big time creeper. He was in many movies with the King of Vampires, Bela Lugosi.

We were there for quite awhile, and we did have some hot dogs. But maybe we left too early because we never saw any preparations being made for a movie while we were there. I believe that they were planning to show it on one of the TV's with a VCR.

Even though it was not crowded at the bar, there were two people that separated the 6 of the Geezers who were there. Usually when we are at Dusty's the bar empties out, and we all sit togehter there. As the Geezers entered they would stop and talk with the guys at the one end of the bar, and then they would come over to the other end and hover over there. These two people would just not leave. It must have been the hot dogs and baked beans that kept them there.

They finally did leave and seats opened up, but that was after a few of the Geezers began to leave. 

Dusty's does have a few games to play for their customers. There is the put-the-ring-on-the -peg (Swinging a ring on a  string and trying to hook it on a peg), and then there is the standard Darts. Whenever we are there, and Drumstir is with us, he always challenges bartender Karen to a match. And as usual he wins! I think Karen won once. Before her final throw, I took a picture of her with a flash. She blames me for her loss because the flash blinded her and she couldn't see. OK! Go to our
PHOTOS
page to see the pics that we took.
It was a cool evening, and there was a fire in the fireplace which added to the aviance for the evening.

Next week we will be out on a Monday, May 5, at Legends Sports Pub for Cinco de Mayo. Legends has a great party every year for this special day.