This is a Monthly Newsletter. Articles, Pictures, and Happenings are all listed one one Page for the Current Month. Page Down to see all of the News in the order that it happens!

This page was last updated: March 31, 2014
GEEZERS NITE OUT MARCH 4, 2014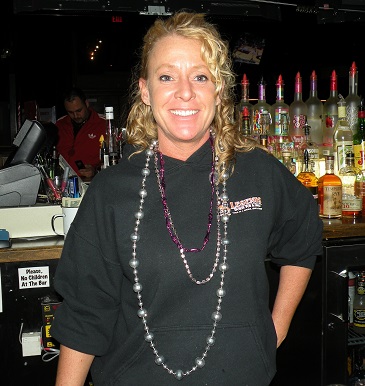 Our meeting at Legends Sports Pub & Grille was held for one of the few times not on a Wednesday. Instead it was the day before or Fat Tuesday. the day before the start of Lent. Also referred to as Mardi Gras in New Orleans!

Pictured to the left is one of our fully clothed bartenders for the evening, Tricia. We are not sure where she got the beads, but we know that we didn't give them to her. Wink Wink!

We were also waited on by Niki, our other bartender for the nite. You can see a picture of Niki and others of Tricia and the Geezers on our
PHOTOS
Link. 
It was not very crowded when I arrived about 5:20 PM. Instead of using the expressway to get to Legends I took a short cut through the strawberry patch. Sort of...here it comes...a "Strawberry short cut"!

Sorry about that. I took the back roads!

While driving I kept hearing on a Cleveland radio station (104.1) about an accident on 77 South.

I was glad that I didn't take the expressway until I came upon a cross street where cars were using after getting off of the expressway. Needless to say anywhere you went in the area it became a parking lot lot. So I imagine that could have delayed some of the customers. The weather was not a factor. It was 26 degrees, dry, and calm. 

As the evening wore on more and more people arrived, and there was a pretty good crowd there for the big night, but not as much as last year. People are just staying out of the cold, although 26 degrees has been warm around the area lately.

The Fat Tuesday specials were
99 Cent Margaritas
,
Roast Beef Po-Boys
, and
Cajun Jambalaya
.
S. B.
,
R. B.
, and I (
Joebo
) tried the Jambalaya. It wasn't bad. S. B., and I added some
hot sauce
to it.
Billy Bob
ordered the
Giant Fish
sandwich, but he said that the one in his sandwich must not have been quite full grown when they caught it. See pics of Jambalaya and fish sandwich on the
PHOTOS
link.
There was a discussion about a possible golf trip sometime in April if the weather cooperates. It will be the first day of spring on March 20 of 2014. According to the "Old Farmers Almanac" it is called the Vernal Equinox. The word Equinox is derived from the Latin words meaning "equal night."

Days and nights are approximately equal everywhere and the Sun rises and sets due east and due west.

As of this writing it is sunny and 54 degrees in Akron, OH. However, it will not be warm or dry enough around here to golf. So we may decide to head somewhere down south for a golf trip..

Speaking of heading south, Tricia, who recently returned from Mexico, will be heading down to the Tampa, Florida area to see a girlfriend.

Next week we will be back to our Wednesday nite schedule when we go to the Firehouse on Tallmadge Circle on March 12. On Monday March 17, we will be meeting at The Grille on Waterloo for St. Patty's Day. Then on the following Wednesday, March 19,  we will be at ohnny J's Pub & Grille in Springfield.  

This page was last updated: March 31, 2014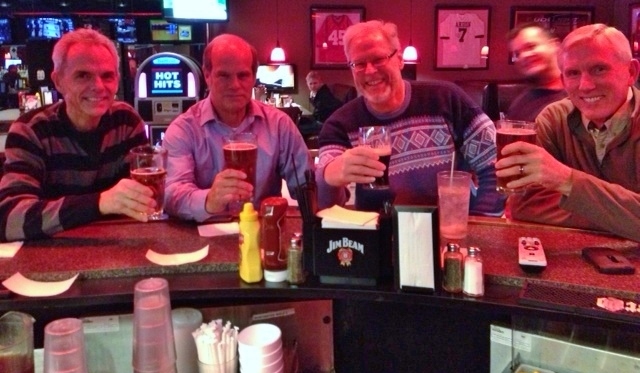 GEEZERS NITE OUT MARCH 12, 2014

The four Geezers above are (L-R) Billy Bob, R. B., S. B., and The Forester. They were the only Geezers to make it to The Firehouse on Tallmadge Circle on this nite of another winter storm.  The guy behind them is a Photo Bomber! Too bad buddy. You're blurred!

This day was another one with a weather storm warning. There were supposed to be approximately 1 - 3 inches of snow in the Akron area after 12:00 Noon, But the bad part about this was that there was supposed to blowing wind and drifting snow!

In writing this article I tried to gather weather data from that day,
March 12, 2014
. But both
wundergound.com
, the weather website that
GNO
uses, and
WKYC.com
weather have
No Weather Records
for that day. Maybe there was a power outage? I don't know, but the last weather published from
Wunderground.com
the
temperature
was
37.9
degrees with a
Windchill
of
30.9
with the
Wind Speed
of
10.4
MPH. the Data after that was lsited as "N/A"! Go figure.
The four Geezers (to my knowledge) were already out that day for work purposes. So there was no effort on their part to make it to The Firehouse. But if you were in most of the day, like I was, looking out the window, there was no incentive to go out there.

I'm sure that the guys had a good time. But I bet they weren't too happy to drive home in the blowing and drifting snow in their cold cars. If any of you brave souls have any comments ts to make about this, please leave a message on our
GUEST BOOK
on the
HOME
page.
Monday, March 17, is St. Patrick's Day. It is not a regular scheduled affair, but some of the Geezers will be celebrating the day at The Grille On Waterloo.

Start the morning at 9:00 AM with Kegs & Eggs. There will be Live Entertainment from WKDD from 11:30 AM - 2:00 PM. Later you an enjoy Corned Beef & Cabbage, Corned Beef Reubens, and Drink Specials All Day Long.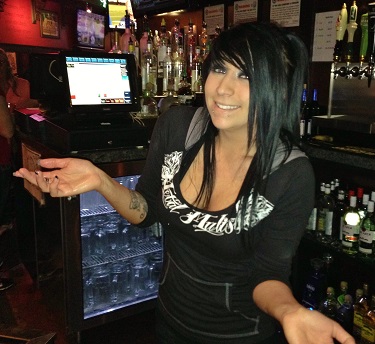 GEEZERS NITE OUT MARCH 19, 2014

You never know what the weather is going to be like on a Geezers Nite Out! Like Will Rogers said: "If you don't like the weather in Oklahoma, wait a minute." Evidently, old Will had never been to NE Ohio.

On this night it was raining and 48 degrees.

Pictured to the left is one of our bartenders for the evening, Sarah. Sarah is also a model. The reason I asked her to take her picture is that I thought she looked a lot like the late British vocalist, Amy Winehouse. What do you think? I don't think Sarah knew who Amy was.

Wednesday nights at JJ's is $3 Martini night. I (Joebo) had a Chocolate Martini. Only because they were $3. Drumstir even had a martini called Purple Haze. He was reliving his youth. And S. B, had his fave "Down" and Dirty Martini.

The food "special" on Wednesdays is 1/2 Half Price Appetizers during Happy Hour until 9:00 PM. The most popular appetizer with the Geezers? The Chicken Tenders, that come Fried or Grilled. Most of the Geezers ordered those. Except for R. B. who asked for the Reuben Rolls every time. When asked how they are he always answers: "They're OK."

Go figure! To see pictures of these food items, and others from this night go to our
PHOTOS
link.
We've gotten one of our snowbirds back from
Florida
for this meeting.
Spike
(Swish) returned in time to celebrate
St. Patty's Day
at
Kevin O'Bryan's
on 3/14, and
The Grille On Waterloo
on March 17.
As you know if you read our articles we usually see celebrity look-a-likes wherever we meet. This instance was unusual because we saw a look a like who we have seen before. Only this time we saw the Lou Holtz look a like at JJ's, We used to see him at Legends sports Bar all of the time. Speaking of Legends, one of our fave

bartenders there, Tricia, is down in Florida enjoying the Spring weather there. HURRY BACK!

Next Wednesday, March 26, we will be back to The Grille On Waterloo. We were just there for St. Patrick's

Day.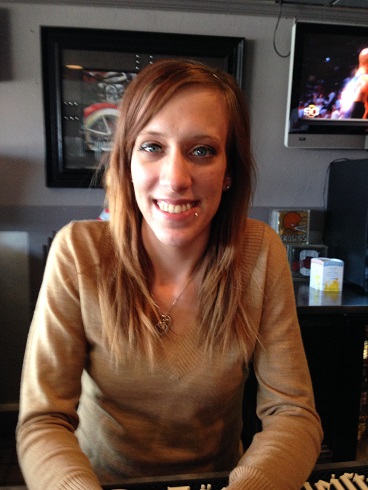 GEEZERS NITE OUT MARCH 26, 2014

The Geezers were back to The Grille On Waterloo for their Geezers Nite Out on Wed 3/26/14.

Some of them were there previously on
March 17
for
St Patty's Day
. You can see the photos from that day on our
MEDIA PAGE 2014
.
The weather on this nite wasn't terrible, but it was clear with 26 degrees at 5:54 PM with a windchill of 16.8. Something that we are used to, and during the previous months past, would have been a welcomed temperature.

We vote for the meeting places for the following month on the last scheduled meeting of each current month. This being said we voted on this nite for the meetings in April.

Our Entertainment Director, R. B., prepares a makeshift ballot, and after the vote is taken, determines the winners, and then randomly places the different Wednesday dates to each location.

Following the vote on February 26, he determined that we would go to The Grille on March 26 which we did.

It just so happened that on this nite The Grille had the Labatt Blue Light Girls in for a taste test.

They brought around bottles of Blue Light for us to sample, while passing out logo key chains, and beer coolers. We have pictures of several of the Geezers posing with these Labatt Girls on our
PHOTOS
link. . 
Pictured above is Natalie, our bartender for the nite. She was going to Close Wednesday nite, and Open the next morning. She was working on St. Patty's Day also. Pictures of her and the rest of the crew can be seen on our MEDIA page for 2014 from the Link above.

The Grille has an excellent
MENU.
We all ordered food from it. However, one item that has been missing from the menu for many years was the
Buffalo Balls
. They used to be a big item years ago along with hot wings when owner,
Russ
, opened a
Scorchers
in the same location. I don't know how long they have been back on the menu, but
Spike
(Swish) found them on there that Wednesday nite. If you go there, try them.
S. B.
, had the
Chicken Caesar Wrap
. He even talked
Drumstir
into trying one, and believe it or not, he
LIKED IT
. However, he was even more health conscious getting cole slaw instead of chips like S. B.
The topics of conversation ranged from the missing Flight MH370 to the movie The Wolf of Wall Street. We all had bits and pieces of info that we heard and read on the Internet to interject about the missing Malaysian airplane. Even though there are satellite images of debris the searchers still cannot find any evidence of the plane as of this writing.

As far as the movie The Wolf of Wall Street goes, Spike (No relation to Director Spike Jonze) said that he didn't like it much. It was a big hit, and up for an Academy Award. But He didn't like it because it was too "real". I guess that Leonardo DiCaprio, and Jonah Hill must have done good acting jobs. Spike didn't like seeing the corruption, and the way they treated people.

As I mentioned above, we did vote for the meeting places for April 2014. The results have been tabulated and they will be published on the SCHEDULE page on April 1 or sooner. However, on April 2, we will be meeting at the Firehouse on Tallmadge Circle.