This page was last updated: April 4, 2015
This is a monthly Newsletter. Page down to view the news and events as they happened.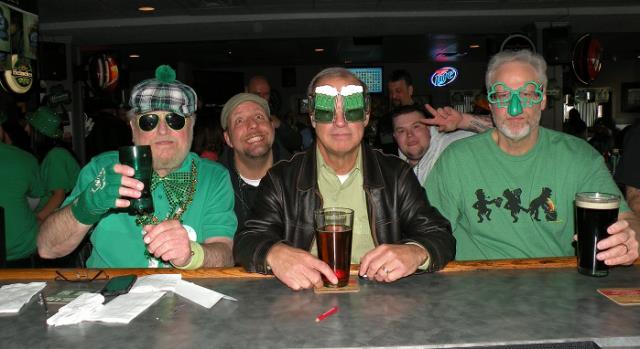 Yes, it's March. And we have St. Patty's Day, March Madness, and Major League Baseball to look forward to. Spike (Bob Swisher) is making the trek back from Florida this week just so he can be around for the St. Patrick's Day celebrations.

Speaking of which, the Geezers meeting during the week of March 15 will be hled on Tuesday March 17 at The Grille on Waterloo. We have been going there for the last 5 years or so since it is centrally located. 

We have had a good time every year that we have been there.

Radio station WKDD is usually there with door prizes. There is a new owner this year, but in the past The Grille would serve Kegs & Eggs in the morning and Corned Beef & Cabbage later on in the day.  

In the evening they have had Live Entertainment in the past.

If you have no plans for St. Patty's Day at least stop in and say Hello to The Geezers.

ST PATTY'S DAY -  GRILLE 2014. L-R Joebo, R. B., and S. B. along with a couple of Photo Bombers

Geezers Nite Out - Wolf Creek Tavern - 3044 Wadsworth Rd. - Norton, OH

One of the goals of the Geezers "group" is to visit a new meeting places whenever we hear of a place that sounds interesting enough for us to send out a scout team in advance to check it out for a possible visit for a Geezers Nite Out meeting. Our meeting on March 4 was just that for the Geezers as a "group"!

Our Entertainment Director, R. B., and I (Joebo) stopped into Wolf Creek Tavern a couple of weeks ago to check it out after a bartender at one of the bars in Put-In-Bay recommended it after R. B. and a few of the Geezers made a trip up there last summer.

So how was it? Answer: It was different! Wolf Creek tavern is located near The Winery at Wolf Creek I was advised. That winery comes highly recommended.

I found out some interesting things about the Tavern on their
WEBSITE.
  When I said that it is different I was referring to the fact that it is mostly oak laden, almost taking you back to the good old days. And when I say Old I mean
OLD
. 
During Prohibition (1920-1933) the basement of the Tavern was a "Speakeasy". For those of you younger readers during those years the bars were CLOSED. However, knowing how Americans love to drink, you just knew that there would be bars popping up in people's basements.

This could be why The Tavern makes their own juices to infuse with any alcoholic beverage you prefer. Go to our
PHOTOS
gallery to see the Infusion choices. They also have what they call
Mystery Beer
Choices
. The menu for those are also on the photo gallery.
It was our first time at the Tavern, as I said earlier, and it was the first week for our bartender,
Nicole
. So we were both "
Newbies
"! We think that Nicole did a great job taking care of us during the time that we were there. You can see a pic of her also on the
PHOTOS
link. 
The Tavern is owned and operated by Shane and Amy Moore. They both live in Norton.

The Tavern also has Live Music 3-4 nights a week by local musicians. For the Music Calendar

They also have an excellent
MENU
and great food. You can see some of the Geezers' choices on the
PHOTOS
link. We always vote in our choices for meeting places every month, but I have a feeling we will be BACH!
Next Wednesday, March 11, we are scheduled to meet at Dusty's Landing in Portage Lakes.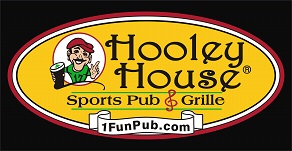 On Friday, March 20, our Entertainment Director, R. B., and I (Joebo) went to a new Sports Bar in Montrose called Hooley House to check it out for a possible Geezers Nite Out meeting place. .It is the last business at the top of what is called Restaurant Hill joining Outback Steakhouse, LonHorn Steakhouse, Burger King, Tres Portillos (Mexican), TGI Fridays, and Wasabi House (Japanese). They are all located on Montrose West Rd.   

The building used to house Steak On A Stone. As you enter the front door there is a small bar off to the left with tables for dining. The main dining area is composed of table and chairs out in the open, and on the main floor. There are also a number of private dining areas behind available for small gatherings. There is a large bar against the west wall surrounded by many Big Screen TV's. In fact there are TV's surrounding the entire dining area.   

It is billed as an Irish Restaurant, and the place was packed on St. Patty's Day. I have been there twice, and both times the food that I ordered was excellent. The first time I was there I had a
Turkey Club Wrap
with a side of Broiled Veggies. It was very good, and the veggies were plentiful. This last time I ordered the
Pub Fish.
It was a large piece of Beer Battered White Fish on a bun with their Beer Battered Onion Rings. I got it to go, and it was delicious. They have a very interesting
MENU.
And they also have a Special Drink Menu along with most domestic beers to choose from.

From everything that we saw and experienced I believe that this place has everything that the Geezers need to enjoy their Nite Out, and there is no doubt that it will be voted in. Voting will take place on Wednesday evening, March 25, 2015 at the Winking Lizard in Montrose.