This page was last updated: December 10, 2015
This is a monthly Newsletter. Page down to view the news and events as they happened.


NOTE: This Count below is changed every month, and begins with 0001. The Count you see is how many Hits there have been for that Current month

Geezers Nite Out - BJ's Brewhouse/Ray's Place - Fairlawn

The meeting last Wednesday was one of the most unusual ones that we have had for quite awhile. We were to go to a new place on this nite, but we ended up going to one right next door to it.

A new restaurant/bar called BJ's Brewhouse was built during the summer on the parking lot next to Dillard's in Summit Mall in Fairlawn. It is adjacent to Ghent Rd. We had no idea what is what going to be like, but we thought that we should just try it out. It was entered by our Entertainment Director, R. B., on the ballot to be voted on for November, and it was voted in.

It opened on Monday
October 26
, and I (
Joebo
) went with one of the Geezers,
Crazy Richie,
for lunch to check it out. Go to the newsletter for
OCTOBER 2015
to see the write up that I wrote about our visit.
On last Wednesday I left Montrose for the short ride to the Brewhouse around 4:30 PM. I arrived there around 4:45 and immediately went to the bar. I was waiting for Spike who usually arrives early. Fergie also arrives early for meeting, but he is still in Florida. By around 5:00 PM there was no Spike. I was expecting S. B. or R.B. to be the next to arrive. By 6:00 PM I was still sitting there by myself. The bar, and restaurant became more crowded by the minute. And as it became more crowded it was rather obvious that this would not be a good place for the Geezers to meet.

I placed a Group Text to whoever I thought may be coming to where I was, and told them I think we should use Plan B and go to another place. I received a reply from S. B. who said he was still sick. He has been sick for a month or so and he even missed a gig with the Phantom Band for a Halloween party on October 28. 

I did hear form R. B., and he said he was on his way there. I suggested to go to Ray's Place next door. I also texted Billy Bob,and let him know what was going on since he always arrives later than the rest of us.

He was going to come to the Fairlawn area to wait for me to reply where we were going to ho.

R. B. texted me back, and said that he was at the bar. I told him I was still at the bar. The trouble was, he was at the bar at Ray's Place, and I was at the Brewhouse. So he said that he would join me across the street.

I texted Billy Bob again, and told him that I was still at the Brewhouse and R. B. was going to join me. He said that he would come to the Brewhouse just to see what it looked like. R. B. joined me at the Brewhouse bar and he ordered a beer. We were going to leave as soon as Billy Bob arrived. However, there was no parking so he went to Ray's. After we finished our beers, I paid the bill and R. B. and I left for Ray's. I had two pints of Guinness, and R. B. had a pint of Blue Moon. I had the Guinness at Happy Hour

3-6 with $1 off of each one. R. B.'s was after that. The bill was $18.95 for three pints of beer. 

Ray's Place was also quite crowded, but the prices were a little more reasonable, and we felt a lot more comfortable.

We may not be back at Ray's again, but I know that we will not ever be back to BJ's Brewhouse for sure as a group.

I found out the next day that Spike, and S. B. both reported off on the Geezers email address. However, I do not receive email from that address on my iPhone so I did not know that they had done that.

It ended up being Me, R. B., and Billy Bob at Ray's Place for the remainder of the evening.

We are scheduled to meet at The Firehouse on Tallmadge Circle on Wednesday November 11, 2015, Veteran's Day.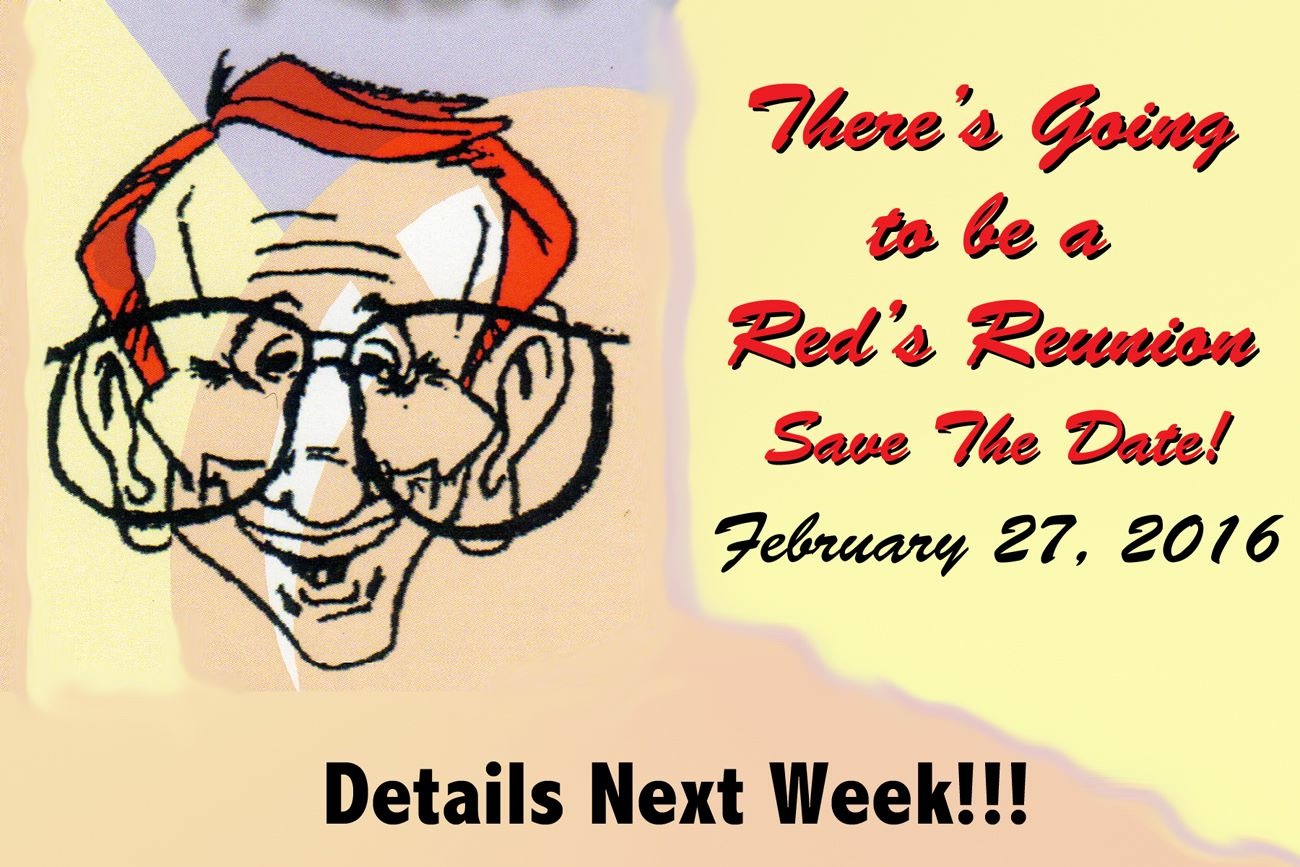 For all of you who don't remember, Red's Bar was one of the Hottest Hot Spot in Akron, Ohio. And the owner was Arnie "Red " Shapiro. At one point in time the place burned down.It was rebuilt, and when it reopened it was only second to Tangier's in decor, and excitement.

After Red's Arnie dabbled in other ventures like managing a restaurant/bar in Quaker Square in downtown Akron.

Back on November 9, 2013 there was a  celebration for his 90th Birthday at Tangier's Restaurant..

This party should be a doozy. We will keep you posted!

Geezers Nite Out - Legends Sports Pub & Grille - Green

This was one of the most attended Geezers meeting since we were down in Clearwater Beach, Florida in

February to watch the Super Bowl for our annual Geezers trip down south.

In between our Florida trip we have had a number of health calamities confirming that we are now "official" Geezers. But not "Old" Geezers.Also, when healthy, a few of the Geezers have made visits to other states.

The vacations were in Hilton Head for R. B., back to Florida for Fergie. a cruise by Drumstir to Panama, and a recent trip to Las Vegas. The Jerry (Jerry's Corner) has made a few trips down south to Tennessee and surrounding areas, and recently to Myrtle Beach, SC and areas close by..

There have also been a few sicknesses involved  Drumstir succumbed to Pneumonia, and was under the weather for 9 weeks. S. B. contracted the Flu (Not the Blue variety), and he was out of commission for 7 straight days, and missed a performance by the Phantom Band of which he is  a member, for a Halloween Band Bash in Norton, OH. Spike was a good boy, and got his Flu shot, but it didn't help him to avoid a fit of sneezing, and a runny nose. And I rounded out the attacks with a Sinus Infection that lasted about 10 days.

This has been one of the most unusual Novembers in Northeastern, OH in many years. We have had no snow to speak of, and the weather fluctuates between 30 to 70 degrees on a daily basis.

This is not a good precursor to the up and coming winter season for us older folks. It has set us back a bit.

However, on this nite S. B. was feeling better, Drumstir kicked Pneumonia's butt, and made it back form Vegas with money for parking, Fergie returned from his jaunt for a few weeks to Florida, Swish recovered from his sneezing fit, and I am (Hopefully) over my sinus infection.

Billy Bob was also in Key West for a number of days, but he is back safe and sound.

However, there were a few injuries and surgeries of family members which also contributed to some concern, and trepidation. Fergie's wife Brenda, fell 3 or four months ago, and injured her wrist, She didn't need surgery, but faces a long road to recovery. R. B.'s son, Paul, needed to have back surgery to relieve some nagging injuries, and R. B. has to help him out during his recovery.

However, on this nite, there were 7 Geezers, and bartender Tricia there. We all ate from Legend's fine menu, and we will all hopefully be meeting next Tuesday, November 24 at Dusty's Yacht Club to celebrate the upcoming Thanksgiving Day holiday.  

HAPPY THANKSGIVING EVERYONE!

Geezers Nite Out - Dusty's Yacht Club - Portage Lakes

This nite was the nite BEFORE Thanksgiving Eve. We did this on purpose as the nite BEFORE Thanksgiving, is supposed to be the biggest drinking nite of the year, and we didn't want to be out driving around with the Amateurs on that nite, as is the case with New Year's Eve.

Bartender Karen was glad to see us as we we were to see her. She thanked us for the Birthday card that we left for her on our meeting on her Birthday on October 21.

On her Birthday there was all kinds of food for us to enjoy, but on this nite we had to settle for Hot Dogs because we were a nite early. However, it hit the spot.

We had a pretty good turnout on this nite. And one of our part time Geezers, The Forester, was in attendance. His Birthday is on November 25. I bought him a Jack on the Rocks. 

This was also our voting nite for the meeting places that we will be going to in the month of
December
. We voted on
5
places since there are
5 Wednesdays
in December. We voted on these Wednesdays, and the results of the vote have been posted on our
SCHEDULE
page.
However, as is tradition some of the Geezers will be out on Christmas Eve Day, and New Years Eve Day for a few hours before the festivities for those days begins. We will post it on the schedule when we know what time, and where we will be.

I took some very interesting pictures from this nite that I'm sure you will enjoy seeing on our
PHOTOS
page.
On Wednesday December 2, we will be meeting at a place that we haven't been to (As a group) for around 8 or 9 years. Back then it was the Station House, but it has recently changed hands and it is now called the Springfield Tavern. We will also be excited to see one of our fave bartenders, Sandy.